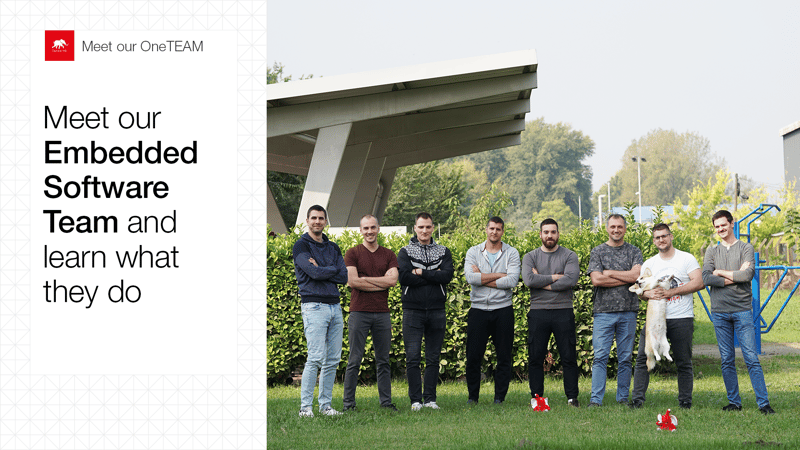 At Typhoon HIL, we work on bringing together a great selection of people to enrich our OneTEAM and share and promote our core values. We wanted to give you a chance to meet the people behind our solutions and share insight into what their daily work looks like. In this blog, we start with our Embedded software team, which is the engineering team at the heart of our real-time solutions, ensuring they run fast and with flexible connectivity.
Meet the team
|
What
do
E
mbedded
s
oftware
e
ngineer
s do
?

Embedded software is important for systems where high spec requirements must be met, such as real-time HIL devices where the smallest possible time-step resolution needs to be achieved and high amounts of data collected. Working on embedded software development involves a lot of digital design, as well as adjusting software applications to work on different operating systems.
" It's a pretty relaxed environment to work in.

Aleksandar Pecarski
Embedded Software Engineer

Our Embedded Software team is a growing team that currently counts nine engineers and one honorary team member, a friendly corgi named Alfi. This team works at the heart of our real-time device development, including FPGA solver design and ensuring a wide selection of connectivity options between our devices and controllers that need to be tested on them.
" It's a perfect combination of friendliness and professionalism.
Aleksandar Jurica
Embedded Software Engineer

Career path

| What makes the work of our engineers unique?


The main thing that makes the work of our embedded software engineers different from the usual work done in this field stems from the nature of the company, which is B2B oriented. That means that our engineers are developing a platform for other engineers to use in their own development and testing teams, who are more focused on writing applications specifically for one particular hardware or task at hand.


What the team members enjoy most are the challenges of constantly researching and improving products, as well as the satisfaction from making things work. They describe the team's work environment as relaxed and a "perfect combination of friendliness and professionalism". This team is the perfect environment for those who enjoy solving logical problems and overcoming new engineering challenges.


We have a more in-depth interview with Darko Alavanja on the most interesting and most challenging parts of his job, with more on where Alfi plugs into the HIL development process.

Learn more from Darko's interview on embedded software engineering.

Internships

| What is it like to be an intern at Typhoon HIL?


Our OneTEAM isn't just powered by full-time employees. Before joining the team, Tijana was an Embedded software team intern. She did her Master's thesis research project as a part of her internship focused on establishing communication between physical electric vehicle supply equipment and a car simulation running on a HIL device. A big part of her work included researching standards for electric vehicle charging and implementing them as embedded software.
" I learned a lot and interacted with all the great people in the office. I would recommend anybody interested in embedded programming to try for an internship here.

Tijana Ostojic
Embedded Software Engineer
An interview about Tijana's internship experiences was published on HIL Academy, where she shared the most exciting parts of her internship, why she chose to do it with us, and whether it met her expectations.
Read the full interview with Tijana Ostojic to learn more.
Want to become a HIL engineer?
Sign up for the online specialization at HIL Academy.
Acknowledgments | We would like to thank the Embedded software team members for sharing their experiences included in this story: Milan Simin, Aleksandar Jurica, Marko Boberic, Predrag Krza, Aleksandar Pecarski, Dragan Topalovic, Darko Alavanja, Luka Jankovic, and Tijana Ostojic.

Text | Debora Santo
Visuals | Cover image by Karl Mickei and Milica Obradovic
Editor | Debora Santo