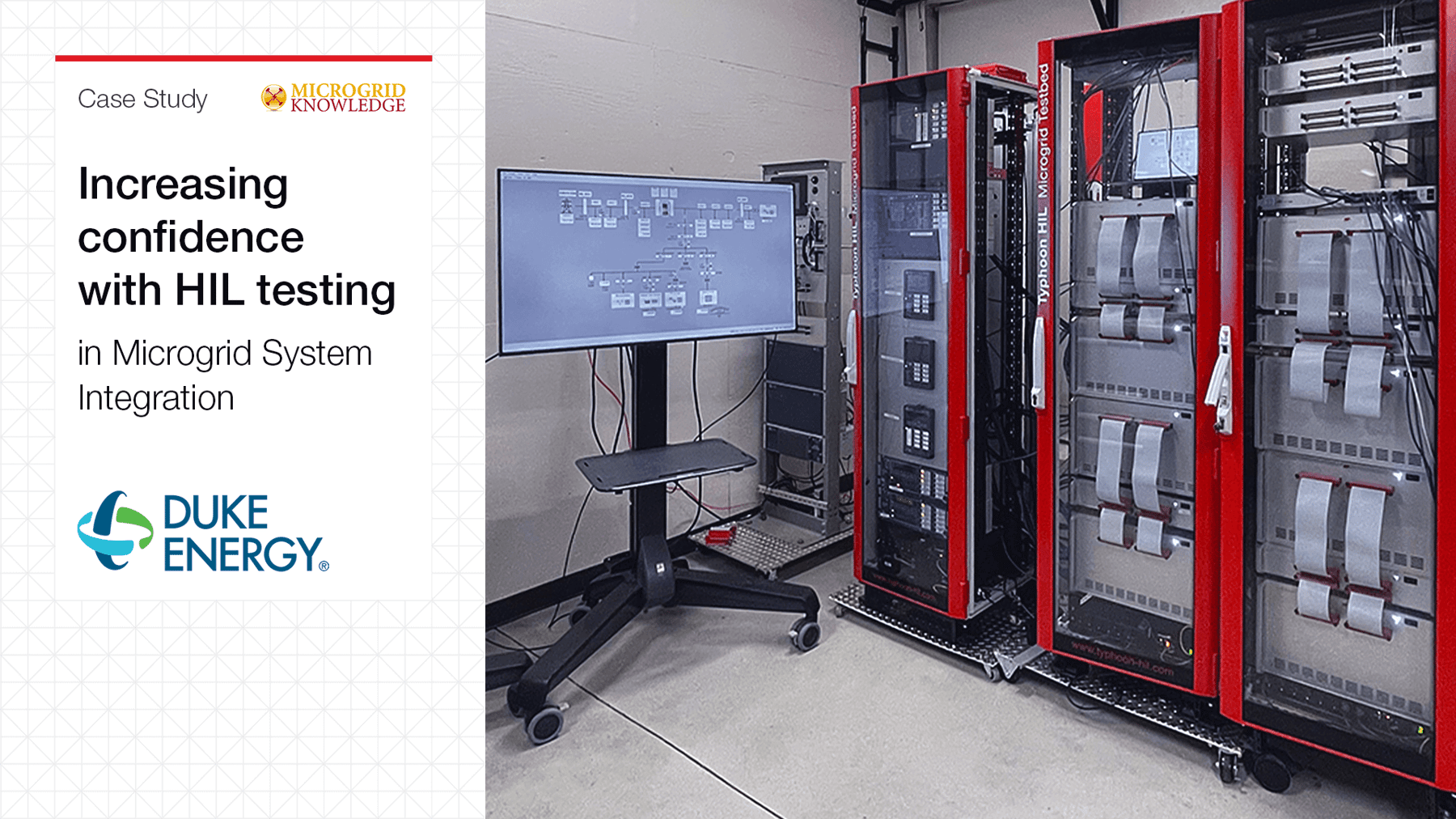 Blog Highlights
Testing in a simulated environment reduces the potential risk of damaging customer equipment.
Closed-loop systems like HIL enable fine-tuning HIL models.
HIL digital twins enable a testing ground for plug-and-play microgrids.
With HIL, site testing and debugging of software can be completed ahead of deployment.
Duke Energy, providers of microgrid solutions since 2013, decided to start using HIL because they did not want to learn by making mistakes on real customer circuits. Prior to HIL, the organization used open-loop static-based simulations such as Simulink, but found large discrepancies between the performances of actual equipment during validation tests against the open-loop models. This is not to say that HIL models are immediately 100% accurate, but the closed-loop system allows feedback to be used to fine-tune the HIL models.
"Once that piece of equipment is validated in your HIL, your confidence is high, but there's an upfront process to get through. The hope is once you have that repository of different building blocks, future deployments of future systems should benefit.

Stuart Laval
Technology Director
Duke Energy
For the time being, microgrids are custom-made, as they must integrate into existing power systems and coordinate with protection devices. DER, inverter-based systems present different challenges to synchronous generators, such as the design of effective grounding, protection, and control.

For a microgrid with a mix of DERs, the battery becomes critical for managing islanding, synchronizing with other DERs and the grid system. As the battery becomes the focal point, its business case has to be justified, with additional value coming from the provision of grid services. As such, there is a requirement for the ability to island and reconnect seamlessly. This leads to the need to understand fault responses of inverters in power electronics-based resources in grid-connected and islanded modes, which is where HIL testing comes into its own.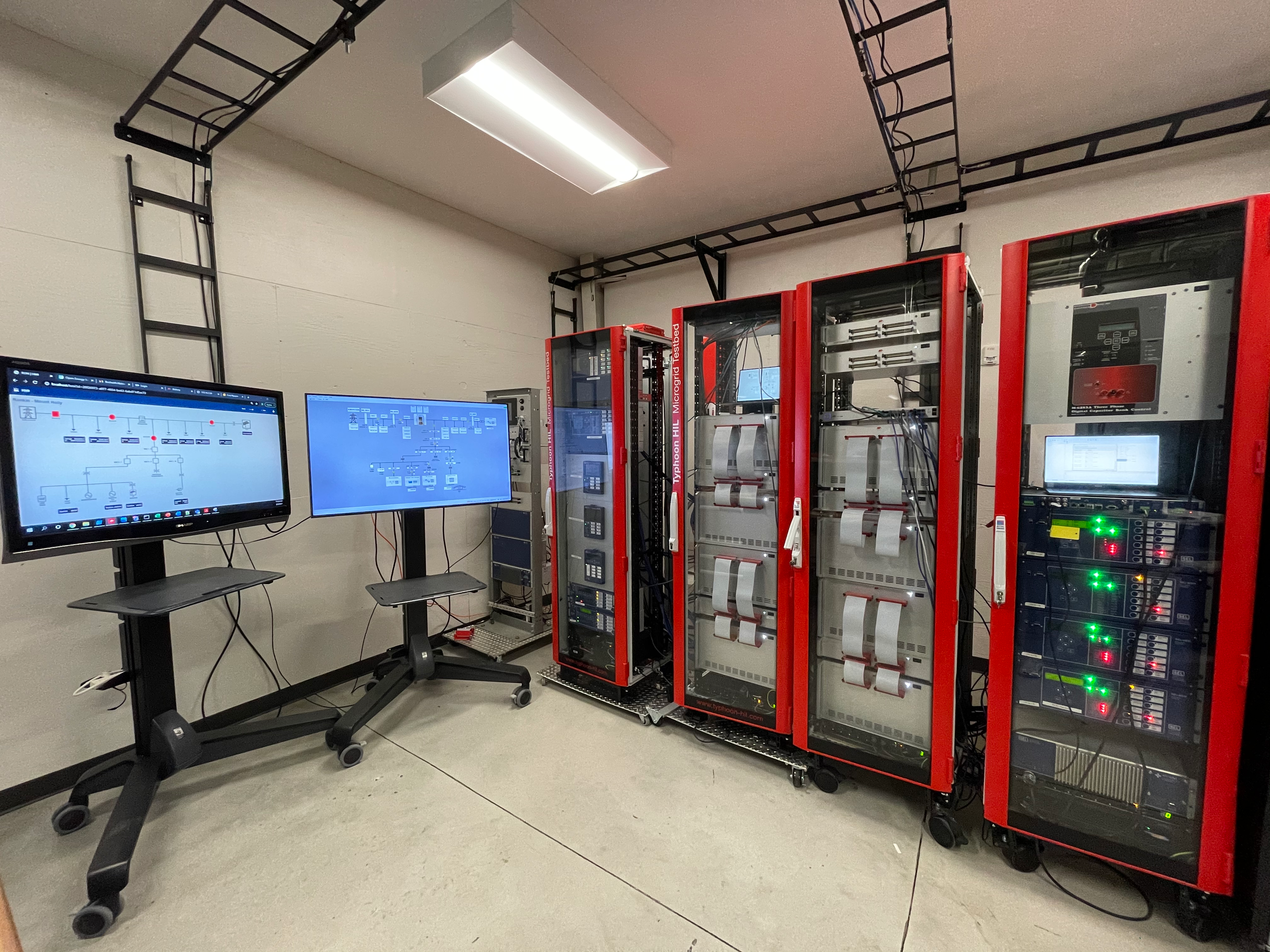 Mount Holly: Typhoon HIL Testing setup at Duke Energy.

HIL testing allows Duke Energy to build full, closed-loop systems and model the fidelity of PID controllers of inverters to understand the fault response with transience on the grid and existing control schemes. Duke Energy found that HIL gives a better picture of system dynamics, without impacting customers because it is done off the grid in a lab environment.
"Utilities have built microgrids without HIL, made technology decisions blindly without understanding full system dynamics. HIL would have provided value and helped with understanding the use cases and impact from a protection control perspective.

Stuart Laval
Technology Director
Duke Energy
Looking ahead, Duke Energy is developing "cookie-cutter" scalable, repeatable microgrid components, and says that HIL is a "no-brainer" for this. HIL becomes an under-the-hood, digital twin for these plug-and-play microgrids. New algorithms can be trialed and new control schemes can be validated before roll out for the customers. Site testing and debugging of software can also be completed ahead of deployment.

There is, of course, upfront investment and process for the use of HIL. For Duke Energy, which develops many microgrid systems, this is worthwhile. HIL provides a vital understanding of how the equipment will integrate with existing power systems.
Read Full Special Report
How HIL Addresses Challenges of Microgrid System Integration
Would you like to integrate HIL into your work as well?
Contact us to schedule a free call to discuss how we could best support your work.
Want to read more Case Studies on Microgrid System Integration?
Visit our blog on this topic to find two more!
Subscribe to blog updates in the top right
to be the first to receive the upcoming blogs by email.
Additional information: The full Special Report was originally published with Microgrid Knowledge as a 6-part series. You may follow the links to read the original publications on their website: