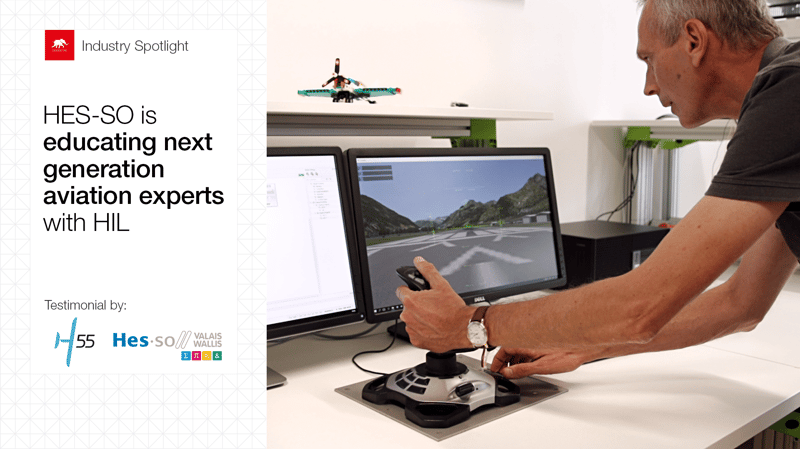 Blog Highlights:
Learn about the HES-SO, H55, Typhoon HIL industry-academia collaboration.
See the flight simulator used for training future pilots and engineers.
Find out about all the benefits a HIL system has for pilot and engineer training, student education, and technology transfer to industry.
Introduction

| About the HES-SO, H55, and Typhoon HIL industry-academia collaboration


In the previous blogs from the H55 Industry Spotlight series, we had a chance to learn a bit about the contributions of H55 to clean aviation, as well as more about the technology behind it. In this part of the story, we focus on the industry-academia collaboration between HES-SO, H55, and Typhoon HIL and the benefits it had as an educational tool and for technology transfer to the industry. We had the chance to interview Dr. Philippe Barrade, professor and head of the Industrial Electronics and Drives research group at HES-SO, The University of Applies Sciences in western Switzerland, about the flight simulator his team created for training pilots, technicians, and students.
Benefit #1

| HIL facilitates technology transfer to the industry


Professor Barrade believes that the most important product of his work at the university are the valuable knowledge and skillsets that his students will bring to industry after they graduate. By transferring cutting-edge technologies and methodologies from academia to industry, students directly support the modernization of industry-standard tools, procedures, and quality assurance systems, accelerating the deployment of more advanced products and service portfolios over time.
" The most important product of industry-academia collaboration are students. Thanks to students, we make this transfer technology from university to industry.
Benefit #2

| Learning with HIL makes students employable and university programs attractive


When students have access to industry-grade tools, it benefits both the industry and the students themselves. The skills that they learn while working on HIL setups are in high demand on the job market in various branches of industry. Teaching the students specific technical skills that will be useful in their future jobs is also of high importance for universities, as it makes their programs more attractive to students and ensures high enrollment interest.
Benefit #3

| HIL is an educational tool for future pilots and engineers


By transferring the experience H55 gained while using Typhoon HIL solutions into the academic environment, future engineers can get familiar with industry-grade technology and learn about airplane prototype testing solutions in a risk-free, real-time simulation. HIL as a learning tool can help engineering students practice real test case scenarios, so they can learn by trial and error with complete freedom. Comparing earlier prototypes with the finished H55 product demonstrates the evolution of the product and provides valuable insight for students with regard to product development.


By adding a real airplane cockpit to the virtual teaching setup, it also becomes a great tool to teach new pilots what are the specificities of an electric airplane and train them for flight in a physical aircraft. These kinds of setups can simulate real case scenarios and failures of the power electronics in a safe setting, so pilots or technicians can get familiar with them and learn how to best react should the situation come up in the future.
Benefit #4

| HIL saves time and money in the product development phase


Performing tests on real power equipment on Power-HIL (P-HIL) setups can be expensive, time-consuming, and risky. The equipment is costly and during experiments, things can break or catch flames. Typhoon HIL provides a high-fidelity real-time simulation environment where power electronics control testing can be performed completely safely. Pre-testing control of power electronics components on real-time simulation can help solve various problems during the design phase while prototyping the most suitable model. This provides the inclusion of a wider range of test scenarios and examines the full range of responses.
" The key advantages of HIL for this collaboration for us was to limit time for developing a system and with unlimited number of unknowns before prototyping.
HIL

| In one word
" HIL for me means development with no risk.
Would you like to integrate HIL into your research as well?
Let's discuss how we could best support your work.
Subscribe to our blog updates in the top right
to be the first to receive new blogs by email.