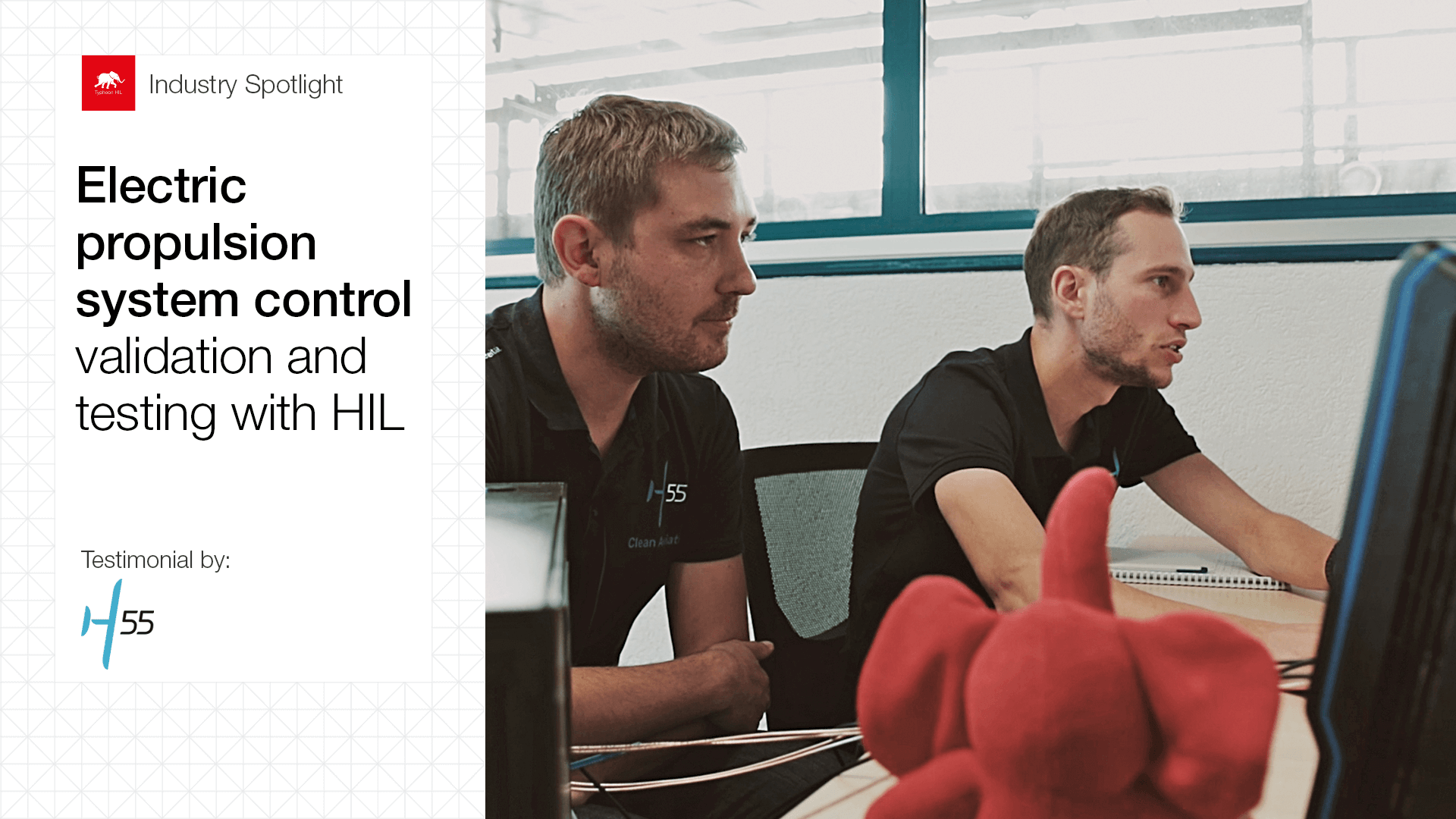 Blog highlights:
Learn about the challenges in EPS control validation testing for power electronics engineers in the aviation industry.
See how HIL real-time simulation and digital twin technology enable safe control system validation for aircrafts.
Find out why engineers at H55 say HIL technology is vertigineux.
Introduction

| The mission of a new world


H55 is a Switzerland-based company with the vision of making clean aviation possible. The core of H55's branded technology is focused on energy and electronic systems, propulsion, and battery management systems which include battery packs, connectors, motor, motor controller, pilot interface, and power controls. By merging the knowledge and solutions of H55 with Typhoon HIL's Hardware-in-the-Loop (HIL) digital twin technology for power electronics control testing, control design and error mitigation become easier in Electric Propulsion System (EPS) control validation testing.
Challenges

| Battling imperfections is a part of the journey


We had a chance to interview David Costes, who works as a senior power electronics engineer at H55, to explain to us the main parts of H55's technology that needs to be tested using real-time simulation. The EPS is normally composed of a battery system and an electric motor associated with an inverter that powers the motor from the battery system. This inverter is driven by a controller designed by H55. With the controller connected to a real physical system, the imperfections of the control system cannot be tested directly without huge risks of equipment damage or to the flight crew itself. The main challenge of the engineers is to simulate the inverter, battery, and motor at the same time and in real-time for validation testing purposes.
Solution

| HIL as a real-time savior


Typhoon HIL provides a fully vertically integrated real-time simulation solution. Real-time testing can take all imaginable test scenarios into account with the real controller directly connected in a closed loop with the rest of the system simulated as a digital twin. HIL technology can therefore provide a high-fidelity simulation of a wide range of failures, giving access to verifying that the control software behaves accordingly, without damaging any part of the test bench. Therefore, it is possible to test and take into account delays, processing time, the drift, the gains, and offsets, as well as any other imperfection. This type of pre-validation assures that, once the control is used in the real aircraft, high security of its proper functioning and crew safety will be guaranteed.
HIL Tested

| In one word
" For David, HIL Tested is vertigineux*
*French expression, meaning something so amazing, that it makes you feel dizzy.
There is an inevitable need of adopting HIL testing as a part of the rapid control development and later control validation processes. Especially after moving to mass production at H55, Typhoon HIL solutions will be employed to validate every single controller using automated test scripts to verify that they are fully functional prior to coupling it with the inverter within EPS. This will bring big reductions in the development time, improvement of safety and reliability, and will bring new electric aviation technology faster to the market.
" Employing Typhoon HIL solutions will bring big reductions in the development time, improvement of safety and reliability, and will bring new electric aviation technology faster to the market.
Would you like to integrate HIL into your research as well?
Let's discuss how we could best support your work.



Subscribe to our blog updates in the top right
to be the first to receive new blogs by email.