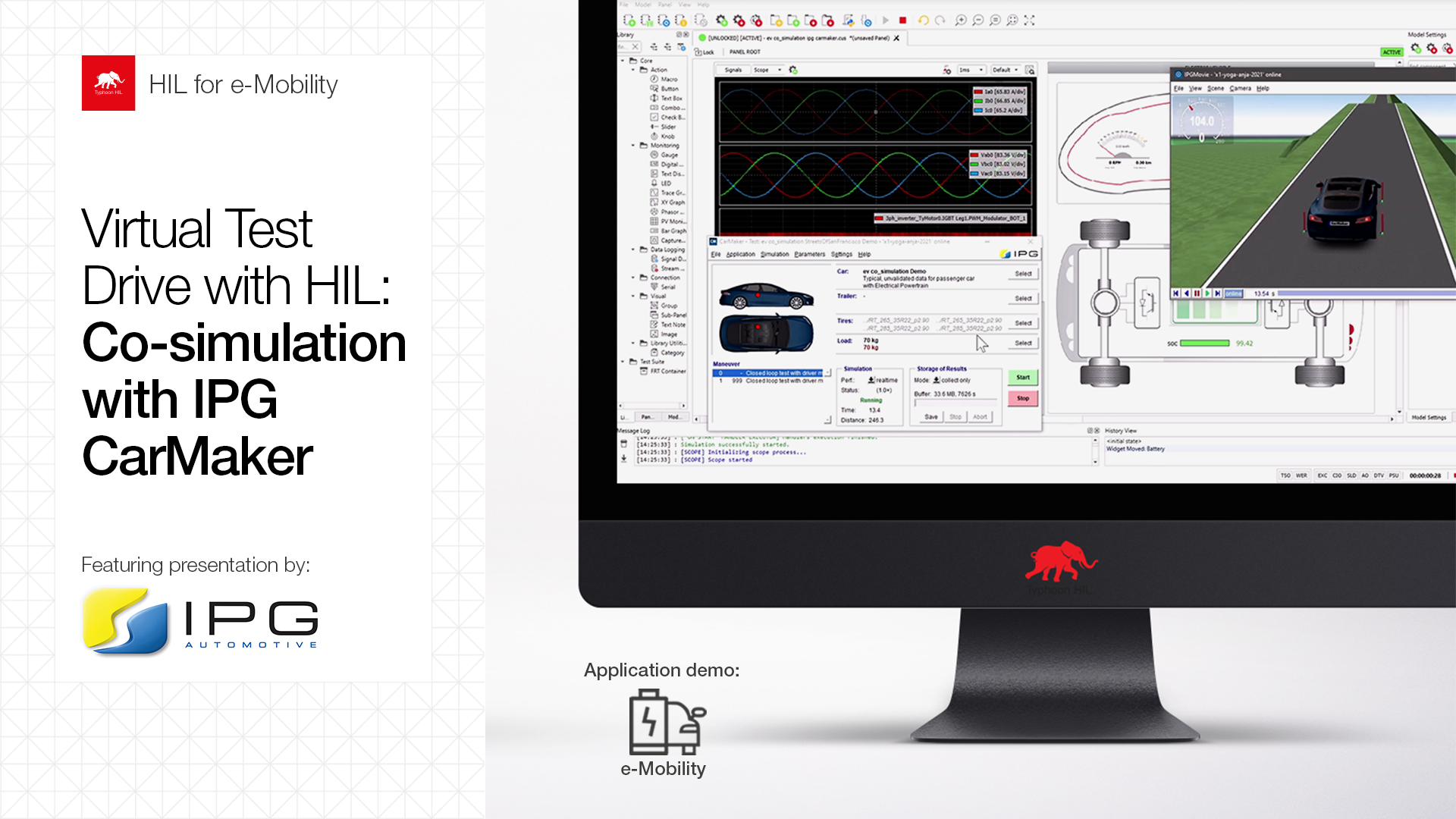 In this blog article, learn about the new possibilities for developing and validating electric vehicles through IPG CarMaker and Typhoon HIL Co-Simulation. Watch the included video to see a demonstration of the co-simulation concept and its capabilities.
Introduction

| Addressing e-mobility industry challenges


The automotive industry is facing new challenges as a result of improved and faster development of electric powertrains. Here, speed, cost efficiency, and quality of development are very important in order to stay ahead of the competition. It is also important for powertrain validation purposes that new capabilities for simulation and testing are created.


IPG CarMaker is a vehicle simulation software developed by IPG Automotive and used by automotive engineers for vehicle design and development. Its capabilities include vehicle dynamics simulation, powertrain simulation, autonomous driving simulation, human-machine interface (HMI) simulation, as well as virtual test driving. CarMaker is a powerful tool for automotive engineers to simulate and optimize vehicle performance, powertrain efficiency, and driver experience. It can help reduce the time and cost of vehicle development and improve the safety and reliability of vehicles. In addition, CarMaker enables a visual simulation of the Scenarios with MovieNX.


Of course, running high-fidelity simulations of EVs requires real-time models that can capture the ultra-fast dynamics present in electric powertrains. Typhoon HIL real-time hardware-in-the-loop (HIL) simulators paired with a vertically integrated software environment called Typhoon HIL Control Center, allows high-fidelity creation of digital twins of the vehicle's electric drivetrain, and the possibility to monitor and interact with it using a user-friendly SCADA interface.


Co-simulation between IPG CarMaker and Typhoon HIL Control Center creates new opportunities in the area of electric powertrain development and validation by combining real-time hardware-in-the-loop simulation based on high-fidelity inverter and motor models and the possibility to include real controller hardware (C-HIL) with a virtual driving environment for achieving a testing environment with extended possibilities.
Solution

| Adding a driving environment to the vehicle under test


For co-simulation, an all-wheel drive electric powertrain was set up in Typhoon HIL Schematic Editor. This contains an electric motor, an inverter and a controller for each axis. The vehicle's electric drive train is simulated in real-time with Typhoon HIL solutions, while IPG CarMaker is a driving environment simulator. It simulates the vehicle body, the track, the driving conditions, such as snow, and the driver. The vehicle model is based on a Tesla Model X. The drivetrain model runs on the Typhoon HIL simulator and is connected via CAN interface to a Host PC where IPG CarMaker is running.
Benefits

| Co-simulation that merges the best of both worlds


This co-simulation creates new possibilities in the area of testing and validation. With the help of the large component library within the Typhoon HIL Schematic Editor, it is easy to create detailed vehicle drivetrain models. The combination with CarMaker completes the model with vehicle dynamics and track simulation.

Are you exploring adopting HIL in your work?
Contact us to schedule a free demo.
Are you interested in more stories like this?
Check out our other blogs.

Project lead | Julian Riedel (HTW Saar, Modis)
Project collaborators | Prof. Dr.-Ing. Rüdiger Tiemann (HTW Saar), Prof. Dr. Clemens Reitze (DHBW Karlsruhe), Danilo Engelmann (BFH), Prof. Dr. Benedikt Reick (RWU), Anja Konzept (RWU)
Text | Anja Konzept
Visuals | Karl Mickei
Editor | Debora Santo, Sergio Costa