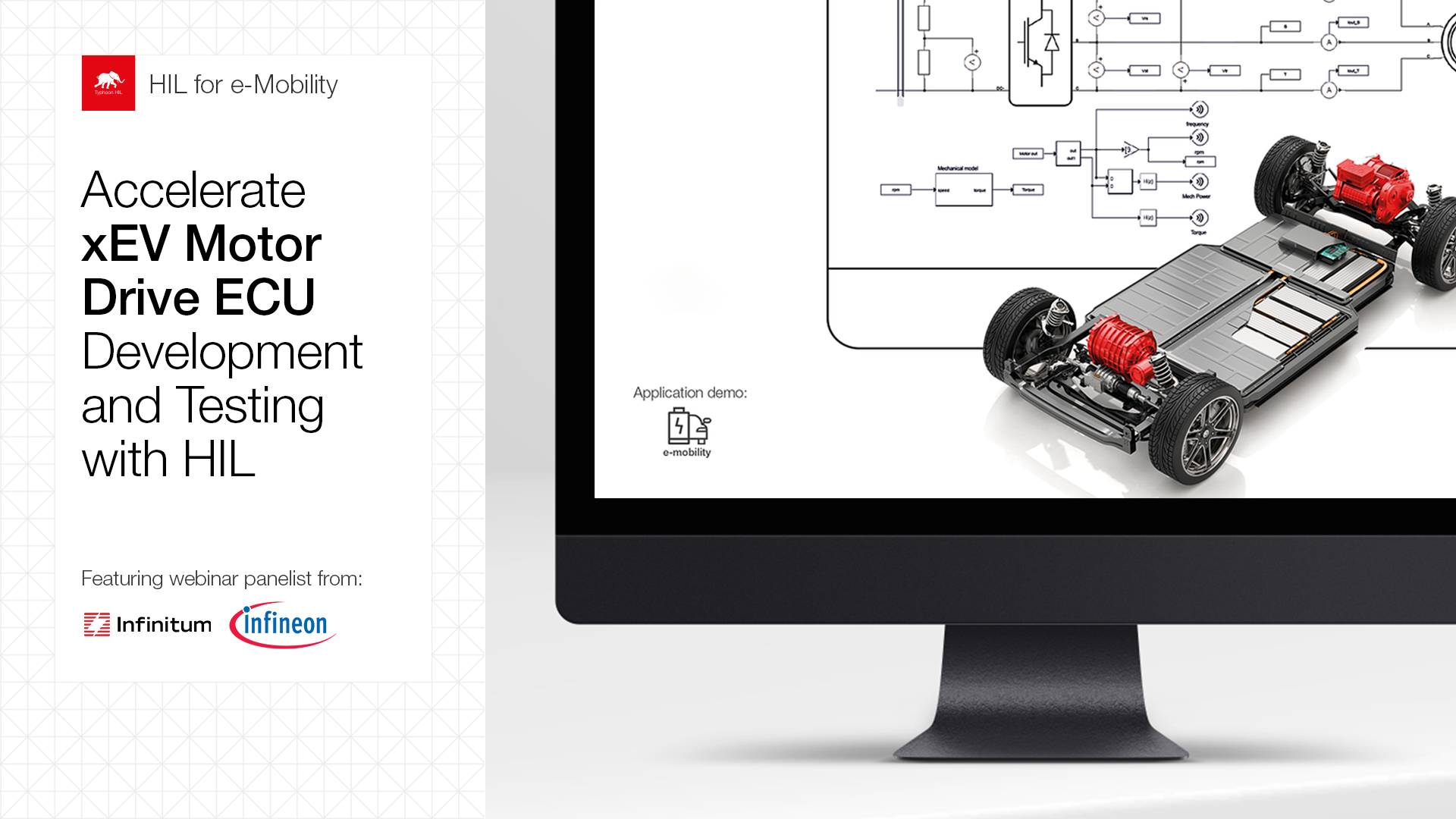 Developing and testing motor drive electronic control units (ECUs) for electric vehicles (EVs) has numerous challenges. We gathered a group of panelists from Infineon Technologies and Infinitum for a discussion on how to overcome them with hardware-in-the-loop (HIL) testing and validation solutions. This article is a part of our HIL e-Mobility series and includes access to the webinar recording with a dedicated motor drive ECU testing demo.
Introduction

| Why is motor drive ECU testing Important?


As the rising global demand and adoption for electric vehicles (EVs) continue to accelerate, companies are facing increased pressures to bring efficient, high-performing, low-cost, easy-to-manufacture, and reliable powertrains to market.


To meet shorter development times amidst an increasing number of projects, and with limited team resources available, manufacturers are being forced to rely on more design and testing with model-based engineering tools in a virtual domain. Paired with the complexity of motor drives which continues to increase, avoiding unexpected and costly challenges that can occur during physical prototype development becomes a concern. Thus, easy-to-use, and easy-to-deploy controller hardware-in-the-loop (HIL) testing and validation are imperative.


This is why we have dedicated the third part of our HIL for e-Mobility Webinar Series to a discussion about streamlined solution-based approaches for designing, testing, verifying, and validating electric vehicle motor drive control systems. Click the link below to watch the webinar recording with our panelists from Infineon Technologies and Infinitum.


Watch our HIL for e-Mobility webinar:
Accelerate xEV Motor Drive ECU Development and Testing with HIL
Learn more

| Meet our panelists


For this webinar, we invited four panelists to join us for a discussion:
Robert Valascho, Director of Field Application Engineering at Infineon Technologies
Ryan Collin, Senior Power Electronics Engineer at Infinitum
Lizhi Qu, Principal Controls Engineer at Infinitum
Petar Gartner, Director of HIL Solutions at Typhoon HIL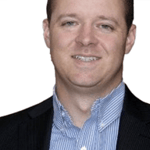 Bob Valascho has been with Infineon Technologies for over 11 years and has held a variety of technical and technical management roles within the automotive business unit. He has deep technical experience with Infineon's automotive microcontroller families, focused specifically on electrification applications. He has worked with many of the North American customers focused on electrification. Bob graduated in 2003 with a dual BS degree in Electrical and Computer Engineering from Michigan State University. He graduated with his Master of Business Administration from Wayne State University in 2009.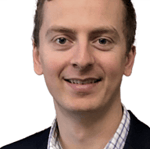 Ryan Collin is a Senior Power Electronics Engineer at Infinitum, where he develops high-performance motor drives for Infinitum's novel axial flux PCB stator motor technology. He received his BS degree in electrical engineering from George Fox University in 2018 and his PhD degree in the same field from Baylor University in 2022. His research interests include motor drives, electric vehicles, digital control, and application issues related to common mode voltages and currents in power electronic converters.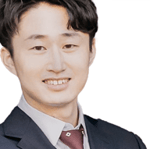 Dr. Lizhi Qu is a Principal Controls Engineer at R&D Department in Infinitum. He is working on researching, developing, and implementing control algorithms for AC/AC and DC/AC power converters and providing input to the design of associated control circuits. Before joining Infinitum, he worked at Ford, Toshiba, and magniX for motor controller development. He received his Ph. D. degree in electrical engineering from the University of Nebraska-Lincoln.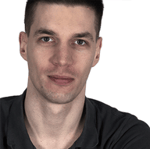 Petar Gartner is the Director of HIL Solutions at Typhoon HIL. Petar leads the development of advanced computationally efficient ultra-high fidelity real-time machine and converter models. He also works closely with the most advanced HIL users to accelerate technology development and customer HIL adoption. He holds M.Sc. in Power Electronics and Electrical Machines from the University of Novi Sad.
Webinar

| HIL testing motor drive ECUs


The webinar covered several key discussion topics and demos:
The most advanced microcontroller platform-Aurix for xEV powertrain ECU applications from Infineon. You can read more about its integration with Typhoon HIL solutions in our earlier blog on EV rapid control prototyping done safely and easily with HIL.
Tools and processes to use in your ECU control testing/development to accelerate time to market and minimize risk.
How to avoid high physical prototype costs by testing early and often in a simulated virtual HIL environment to stay ahead of the competition.
Performing agile control development design and testing for motor drive applications with HIL.
Infineon and Typhoon HIL tailor-made solution for xEV control design and testing of motor drive ECU with a demo presented by Luka Novakovic, Modeling engineer from Typhoon HIL.
Watch our HIL for e-Mobility webinar:
Accelerate xEV Motor Drive ECU Development and Testing with HIL
Are you exploring adopting HIL in your work?
Contact us to schedule a free demo.
Are you interested in more stories like this?
Check out our other blogs.
Text | Dovlyn Curtis, Debora Santo
Visuals | Karl Mickei
Editor | Debora Santo